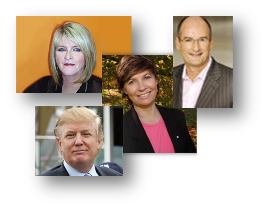 What is the common denominator between Margot Spalding, Dr. Judith Slocombe, Donald Trump and Kochie?
They are all managers, professionals, with big responsibilities, some of them with very big families as well (7, 9, 5, and 4 kids respectively, as of the latest count) and all of them very successful!!! (And two of them are Businesswomen of the Year winners!!)
As someone also very successful, and who I respect very much, said recently: "Having the attitude of a winner and using the psychology of success helps a lot to get you where you want to be but all the positive meditation, chanting mantras in the car on your way to work and grinning at your reflection in the mirror is no substitute to these two key and very simple things"
 WORK HARD – harder and better than your colleagues and competitors
WORK SMART – find out what other successful people do well and copy it
There's been a lot of hype around Tim Ferris' book "The 4 hour week"; it's already caused a lot of confusion and some of the misconceptions have led to faulty work and life practices.
To set the record straight, just look at Tim himself – the guy is restless, he's passionately been working on two possibly three big projects after this book and all involving numerous hours of research, hard work and having lots of fun of course.
Whilst working a 4-hour week is a possibility for some, it is not a realistic (or even desirable) goal for the majority of us.
And should it be? What else should we read in the "4-hour work week" messages?
What is the philosophy and business/work model behind it?
And why are successful and rich people like Donald Trump still working 10+ hours a day?
Stay tuned for my Special Report next week…also book this day in your calendar: Thursday, 27th September, 8am-10am
Come and take a peek at how successful people organise their day for optimal results.
Denitza Genova