Delivering Results, not just qualifications!
Our priority is not the qualification – it is the tangible results that make your people and your company better!
Our flagship Management Development Programme:   Integrated Diploma of Management
It doesn't cost you more to get all the results from our Integrated Diploma of Management programme.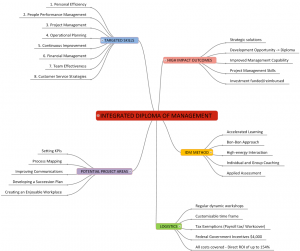 Or get in touch: 08 8212 4852.
Click on the image to the right for the full IDM Blueprint.
Some more information on Integrated Diploma of Management (BSB51107)
"Attention to detail, approachable manner and willingness to help. The classes were humorous AND educational!"
Participant, Cadillac Printing
A nationally recognised qualification designed to build on the existing management skills of supervisors and next level managers.
It is also suitable for Managers with no formal management qualifications but with reasonable management experience.
The Programme incorporates a work-based project for maximum learning impact and company benefit. The project results are also used as assessment evidence.
It is government funded which fully covers the cost of the training for all eligible employees.
Normally completed within a 12 – 18 month period and delivered at your workplace for maximum convenience and impact and minimum loss of time.