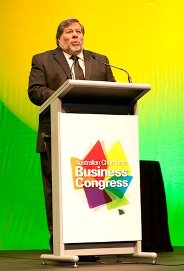 I, perhaps like most of you, have always associated Apple Computers with the other Steve, Steve Jobs. The one who is always interviewed, who is behind all deals, who gets most of Apple's publicity.
So I didn't know what to expect when Steve Wozniak took the stage. I did expect him to read his presentation, since, pardon the stereotype, a lot of engineers like Steve feel uncomfortable presenting without "security blankets".
But it wasn't the case with Steve. He didn't read his speech, and he didn't have sensational facts and stories to tell us.
He just told his story and the story of Apple Computers, and in doing so he captured the undivided attention of every single person in the hall for a whole hour.
Such is the power of Story Telling, it is not just for kids, it is for adults in business suits as well. And this skill is priceless. But I will get back to it later.
For now I just want to present the profile of the Inspirational Leader, from the way I saw and heard Steve Wozniak. [...]